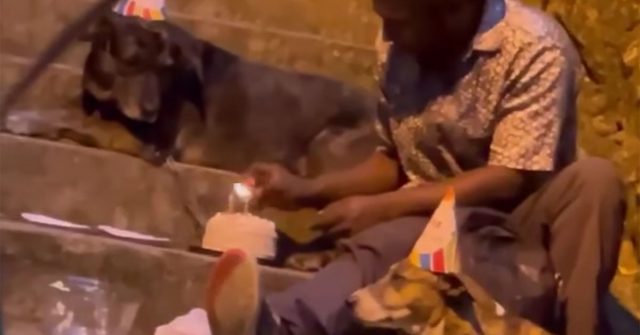 After seeing a homeless man sitting alone in a park and celebrating a birthday party for his dogs, kind neighbors came together to help him find a home.
A bystander was on a walk when they noticed a homeless man sitting on some concrete steps in a local park with his two dogs. The homeless man had put two small birthday hats on his dogs, and he began to sing to them and brought out a small cake from a plastic bag.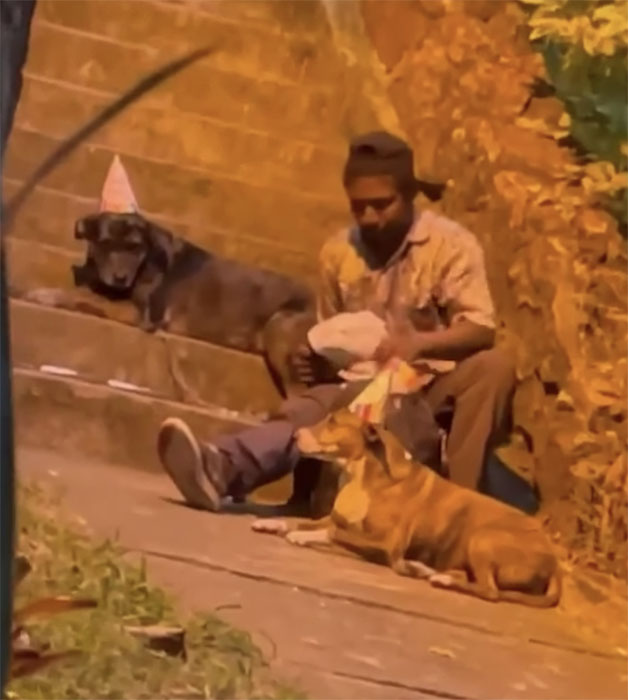 The homeless man, Choko José Luis Matos, was living on the streets in Bucaramanga, Colombia, and he was celebrating his dog Shaggy's birthday.
Choko pet both of his beloved companions and sang happy birthday to them while clapping his hands. He lit two candles on the cake while his dogs observed him, and he gave each of them a big kiss on the cheek.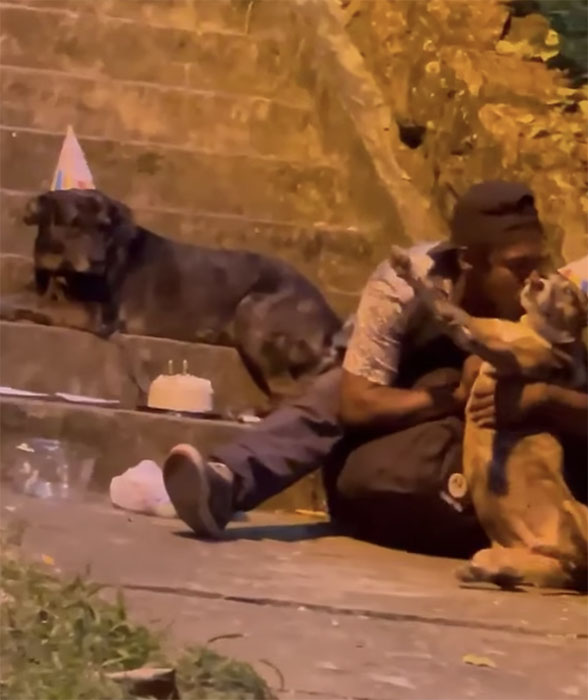 Choko then gave a slice of cake to each of his dogs on paper plates. As they ate together, Choko began to wipe tears from his eyes multiple times in between the pets he gave to each of his dogs.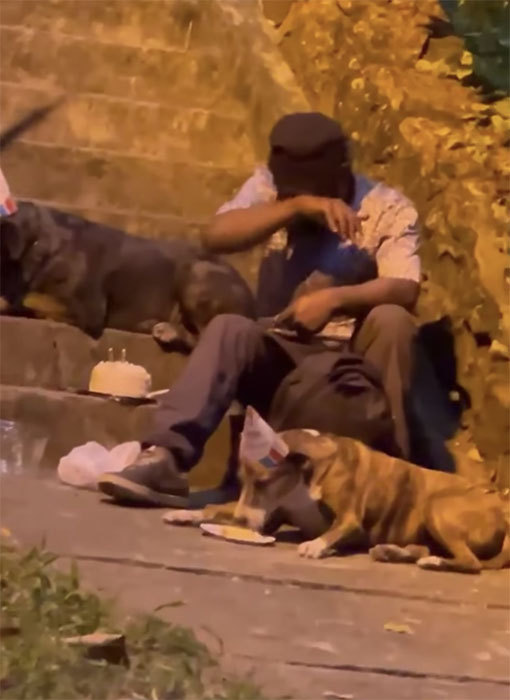 After seeing the sweet birthday party, the bystander walked up to Choko and asked him about his dogs and their party hats. He learned that Choko had two dogs, Shaggy and Nena, and that they were celebrating Shaggy's birthday. As they talked more, he learned more about Choko's situation. Choko had escaped an abusive home, and for the past several years he had been homeless and living on the streets. The bystander quietly could understand the meaning behind Choko's tears earlier, as having a loving family likely meant a great deal to him.
He learned that even while he was homeless, that Choko did everything he could to take care of Shaggy and Nena, as they were his only family.
"My dog ​​was celebrating his birthday, and I wanted to give him a quarter of a chicken, but I didn't have enough for that," Choko said. "But I saw a lady who was going to throw away a cake and I told her to give it to me. She handed it to me saying: 'Take it, son, you make better use of it than I do.'"
Wanting to help, the kind bystander shared a video of Choko and Shaggy's "birthday party" online and asked his friends if they could come to the park and donate any extra food or supplies they might have. The video was shared numerous times online, and the park became a gathering place for animal lovers.
Neighbors who learned of Choko's story came to visit him, and one kind soul gave him his own phone and encouraged him to setup his own Instagram page. He did, and today Choko has more than 180,000 followers.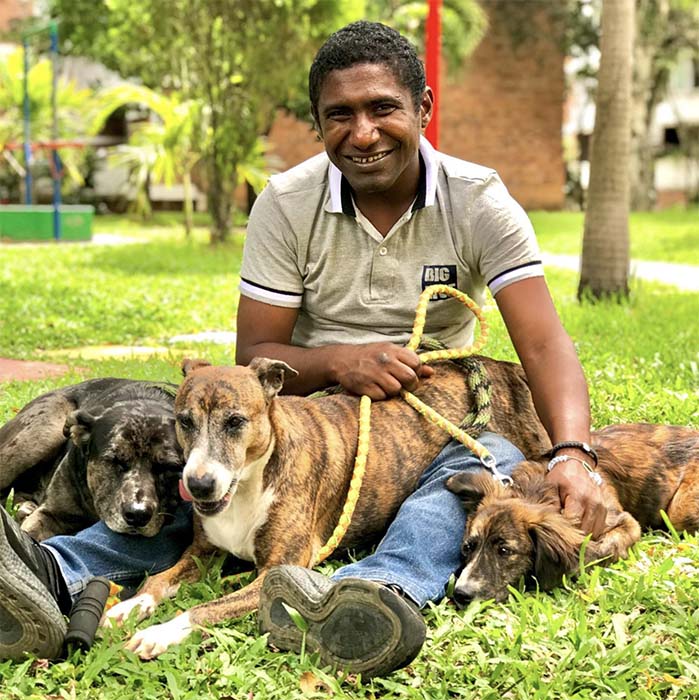 Kind neighbors have helped Choko find a place to live with Shaggy and Nena, he has friends at a local church, and he spends his time volunteering and helping rescue animals living on the streets. His dream is to be able to use his voice to help save and rescue homeless dogs.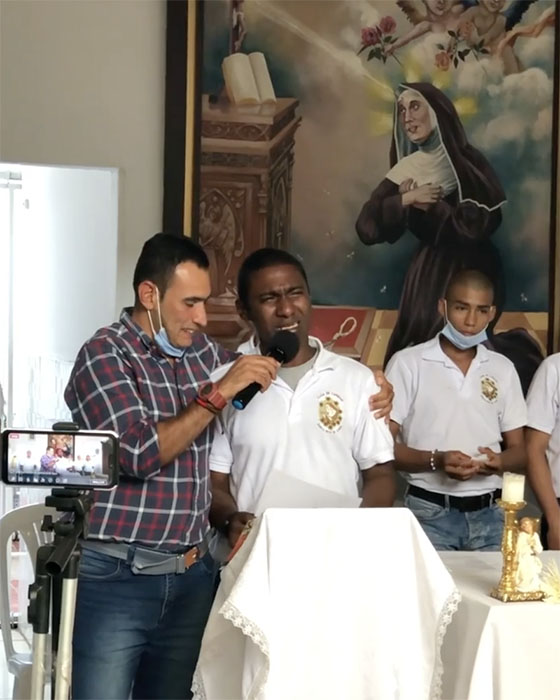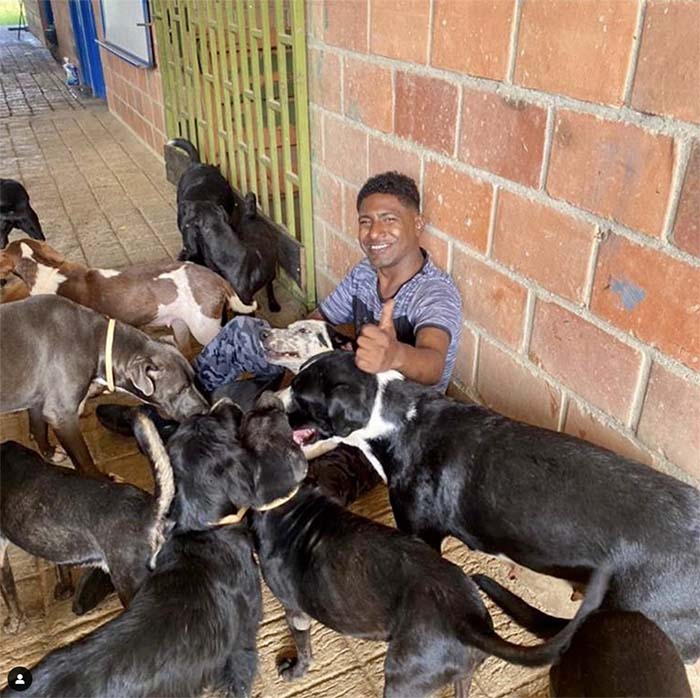 "In so many years living on the street I was never alone. My dogs were always there to bring joy to many sad days, and now together we are going to help many who need us!" Choko said. "I hope to be able to make foundations for little animals all over the world."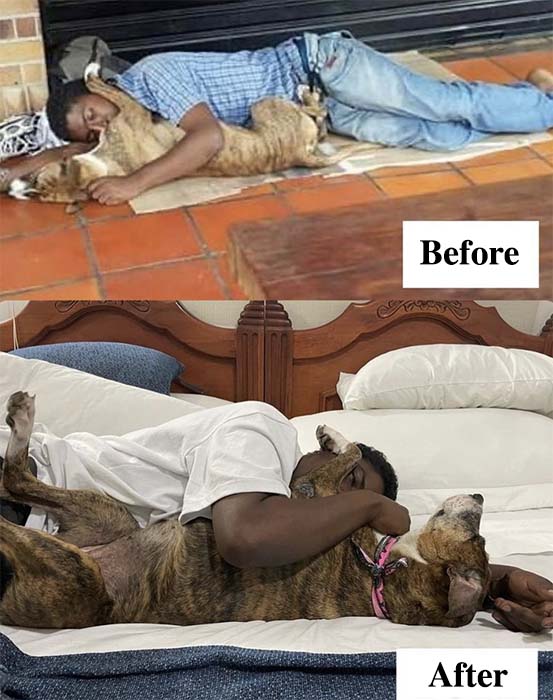 Watch This Heartwarming Video Of Choko Celebrating Shaggy's Birthday On The Park Steps:
You are Loved.
Related Compassion:
Homeless Teen Living Under Bridge Had To Give Up His Dog; Kind Community Found Them A Home Together
Elderly Woman Living In Car With Dogs Now Has A Home After Kind Women Called On Neighbors For Help
Kind Woman Helped Homeless Man Reunite With His Dog, Raised $20K For Their New Life Together