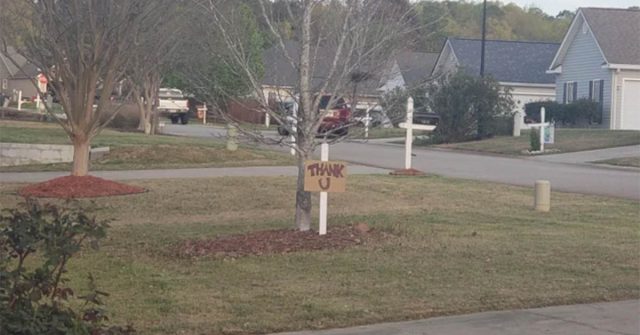 When a man noticed his neighbor looked really tired after coming home from work at the hospital, after he mowed his own lawn, he spent some time mowing hers as well.
"My neighbor is a nurse, we don't talk much because our work schedules are so hectic," reddit user genesislaw1 wrote in a post online. "Yesterday I noticed she looked really tired, she came home and left within the hour."
His neighbor works as a nurse, and likely was working overtime with only an hour break to come home. While mowing his own lawn, he noticed that his neighbor's grass hadn't been mowed in a while, so he cut her grass as well after she went back to work.
The next morning, he saw a sign in her yard which read, "Thank U"
"I went to mow my grass and seen her grass was high so I mowed hers as well. This morning I seen this."
Gentle hearts online appreciated both the man's kindness and his neighbor's thoughtful thank you sign.
"It seems like just a couple minor gestures, but it's little things like this that make things so much more bearable. Help people out any way you can," commented one grateful heart.
"When my twins were born early they had to spend 3 weeks in the NICU. Between my wife recovering and being at the hospital so much, the lawn got away from me. My neighbor cut it for me once and it meant so much at the time, it's a gesture that I will never forget," shared another.
"I have a neighbor who regularly snow blows my driveway. I don't know which neighbor and I don't know why, but I am so appreciative!" wrote another.
Little acts of kindness are not little.
They are treasured in the heart, wrapped in love, for years.
You are Loved.
View this post on Instagram
Related Compassion:
A 90-Yr-Old Man Passed Out While Mowing, And After Taking Care Of Him, Kind EMT Finishes The Rest Of His Lawn
Kind Veteran Spends Retirement Years Mowing Lawns For Free For The Elderly
Kind Young Man Mowed 50 Yards For Free For The Elderly, Disabled, Veterans And Single Parents
Kind Young Man Helps Senior Neighbors With Groceries, Mows Lawn, And Visits Them In The Hospital
Elderly Woman Could Not Afford To Cut Her Grass, So These Kind Men Told Her They Would Regularly Mow For Free