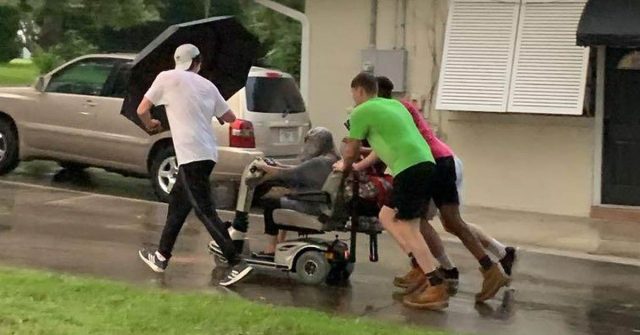 When four young men noticed an elderly woman stuck in the rain on her broken electric wheelchair, they came to her and helped push her three quarters of a mile back to her care home.
JohnMorgan Massa and three of his coworkers from Rebounderz Adventure Parks in Florida were driving home from work in the rain when they noticed a wheelchair stuck in the road. As the young men were about to turn onto a highway, they saw an elderly woman was stuck in the middle of the intersection, trying to get her electric wheelchair to work.
The elderly woman's wheelchair had malfunctioned while crossing the street, and the pouring rain had caused her clothes and shoes to become soaked. She had even put one of the plastic bags she received while grocery shopping on her head to help keep her dry.
The four young men knew they needed to help, so they came to her with an umbrella and asked about her situation.
"We noticed the woman was clearly experiencing a malfunction with her mobile scooter," JohnMorgan said. "We were tired and wanted to get back to the hotel, but knew without a doubt that regardless of our long day, it certainly wasn't worse than the day this lady was having. She literally had a plastic bag on her head to keep her hair dry."
"We knew we couldn't leave her in the rain, in the middle of the road, frantically trying to get her scooter to work again."
The woman explained that her wheelchair had malfunctioned in the heavy rain, and that her care home was nearly a mile away. The young men said that they would help push her heavy scooter back to her care home, and that one of them would hold an umbrella so that she wouldn't be rained on.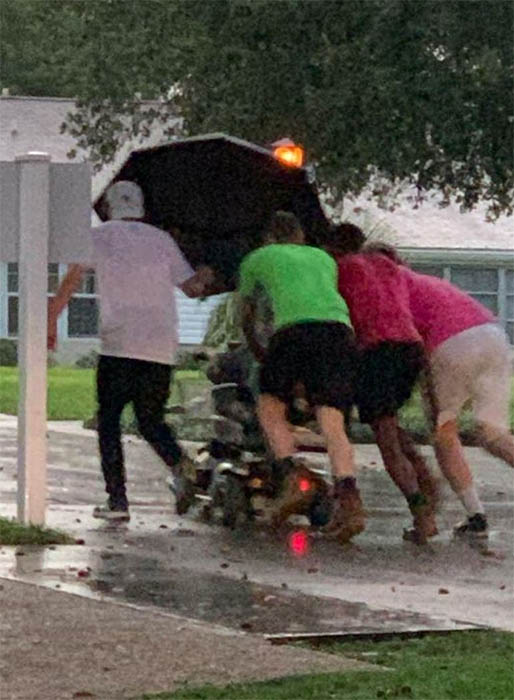 As they made their way to her care home at the Florida Living Independent Community, an employee, Katty Castro, saw the four men pushing the resident's wheelchair uphill in the rain. They appeared to all be having a good time together.
"Since this is a very quiet neighborhood, I was surprised to hear a commotion, laughs and four gentlemen pushing one of my lady residents under a heavy storm in Florida," Katty shared.
"They were pushing her up the big slope toward her residence. These heroes were so focused on helping, regardless of the inclement weather, and they were even covering her with an umbrella, which showed more compassion on their part."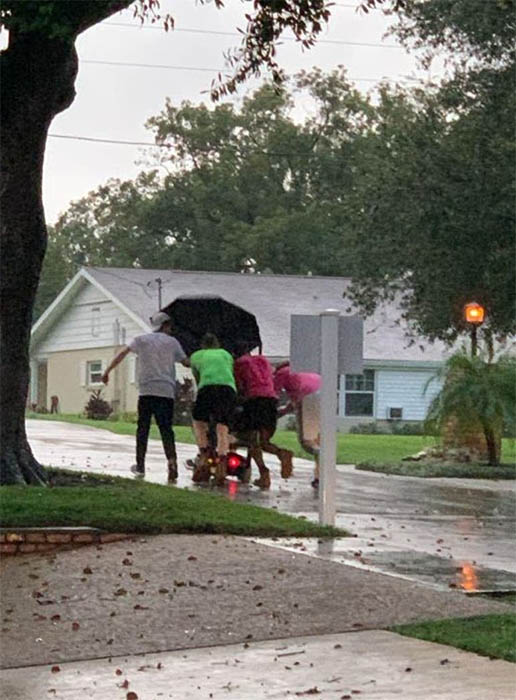 Electric wheelchairs are very heavy themselves, and pushing it with a rider, uphill and in the rain, was a challenging task.
"Those scooters are heavy, add the resident's weight, her groceries and collapsing tires, the sum is a whole workout. But, I am proud of their sacrifice," Katty said.
After the young men helped the woman get home, Katty asked if she could take their picture.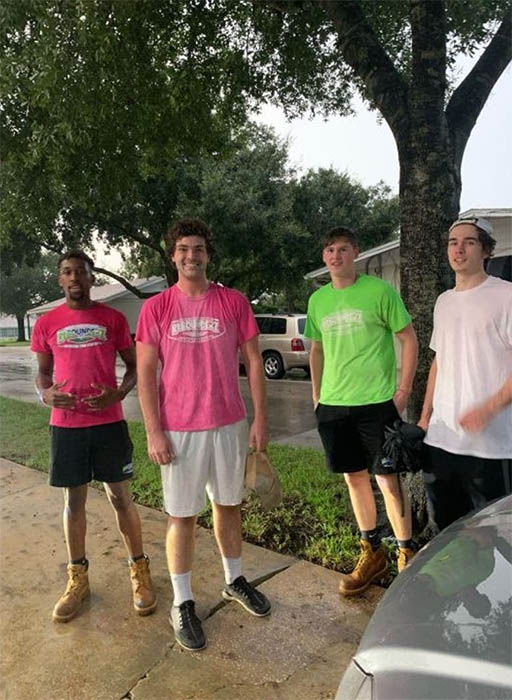 The young men later said that they just wanted to help the older woman get home safely.
"We just wanted her to get home safely," JohnMorgan explained. "Holding a door, smiling, picking up someone's spilled groceries, reaching for an item on the top shelf in the grocery store; and, yes, helping someone whose electric wheelchair broke down in the rain are things almost anyone can do."
Katty was deeply grateful for their kindness towards a stranger.
"In these rough times, let's demonstrate compassion to one another," she said.
You are Loved.
Related Compassion:
Kind Man Pushed Disabled Stranger UPHILL For A Mile To Get Her Home After Wheelchair Broke Down
Kind Young Men Pushed Stranger's Car 5 Miles To Get Home When She Could Not Afford A Tow
Kind Student Worked P/T For 2 Years To Buy His Struggling Disabled Friend An Electric Wheelchair
Loving Mom, 98, Moves Into Care Home To Look After Her 80-Year-Old Son Because "You Never Stop Being A Mum"
View this post on Instagram