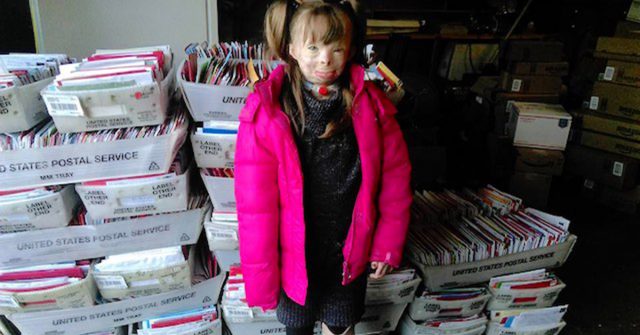 Thousands of kind-hearted people answered the wish of orphaned 8-year-old burn survivor Safyre Terry, which was to have her Christmas tree filled with Christmas cards.
Sweet little Safyre survived a terrible house fire which claimed the lives of her family. More than 75% of her body suffered burns, and she had to endure 20 different surgeries; during which she lost both her right hand and left foot. After 10 months of hospitalization, she was able to go to her new home with her aunt, Liz Dolder, who had lovingly been by her side through the entire experience.




"Liz consistently traveled to visit her, offering hope, encouragement, prayers, and most of all LOVE to fight to recover," said Liz's friend Christine. "There [are] times Safyer needs operations and treatments out of town in another state and needs to be in the hospital for weeks, this taking their mother away and leaving their father to take time off from work to help with them at home, yet they wouldn't have it any other way; she is their sister['s] daughter and they love her."
Many people deeply cared about Safyre and wanted to see her make it through, so her aunt setup a Facebook page and shared updates on the 8-year-old's progress. As Christmas neared, together they chose a Christmas tree which could hold dozens of Christmas cards, and Safyre's only wish was to fill up all of the spots on the tree with Christmas cards.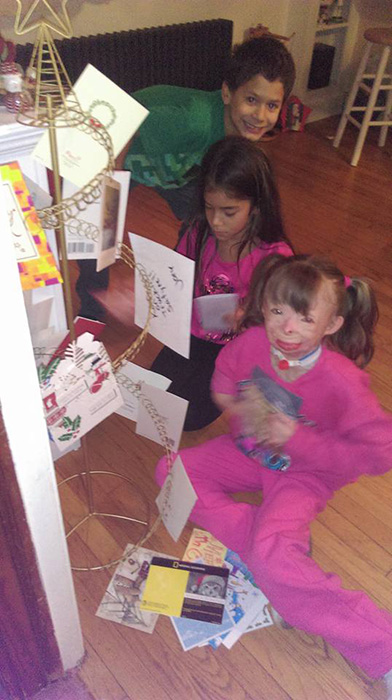 Realizing how sweet this young girl's wish was, Liz shared it with the followers on the Facebook page hoping that a few people could send Christmas cards to Safyre in order to encourage her and to lift her spirits.




"My response was 'I don't think it's gonna get filled up but I am sure we will get a few more cards'," Safyre's aunt wrote in the post.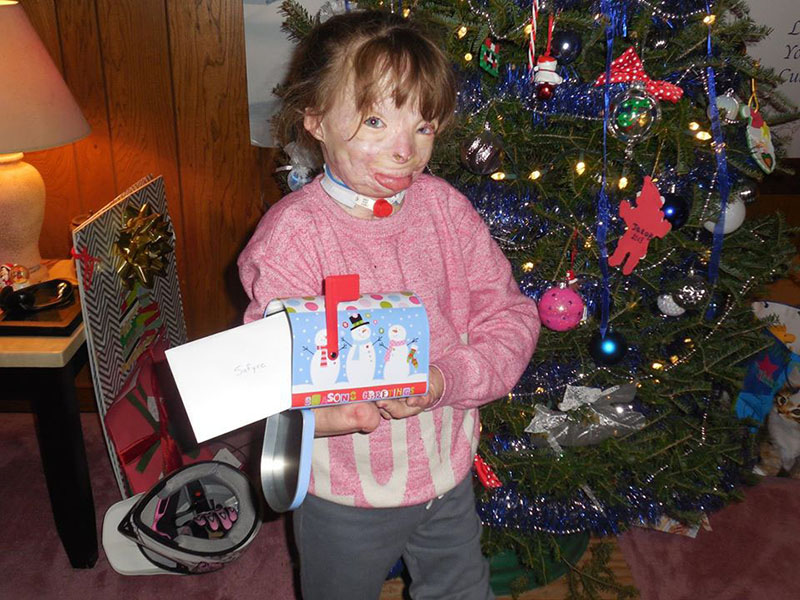 Kind-hearted people from all over the world shared her post, and Safyre's wish began to come true. Shortly after, a two-ton Postal Service truck came to their house and delivered 18,000 cards, gifts, and handwritten letters, all addressed to the sweet little orphaned survivor. Just days later, another 185,000 cards and 4,000 Christmas packages arrived. In total, she received more than 1,000,000 cards, letters and messages of encouragement; letting her know how much she is loved.
From the U.S., To Canada, To Malaysia and Brazil, the global community lovingly let Safyre know that they want her to make it through this… There are some truly great people in this world…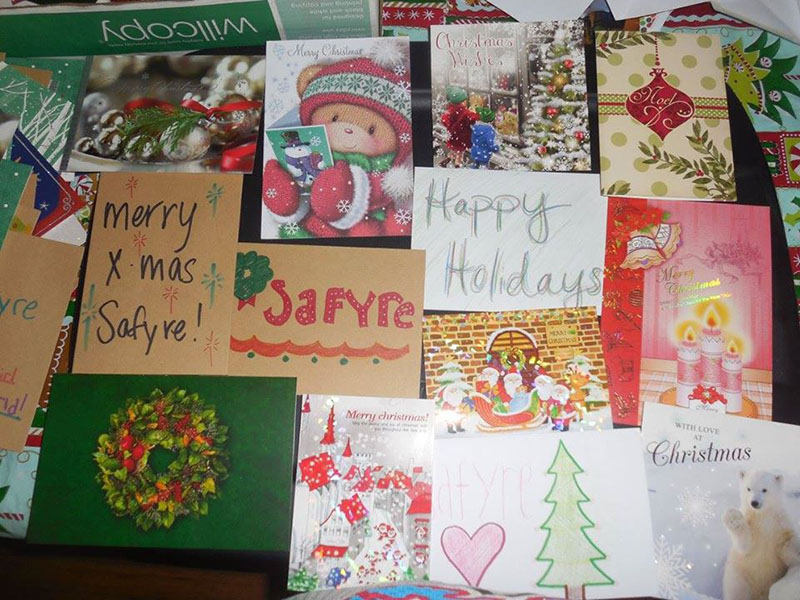 One of the gifts came with a note from 5-year-old Adrian in Hong Kong which read:
"I am five years old. I live in Hong Kong. This is my favorite teddy bear. Let's be friends."



She was also very proud and happy to receive a card from Barack and Michelle Obama and their children.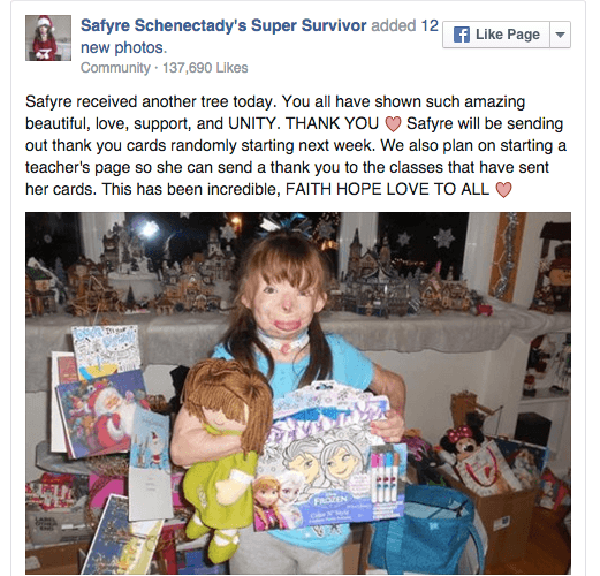 Many people asked Safyre's aunt to setup a GoFundMe so that they could help donate to pay for the child's high medical costs. Safyre's aunt Liz and her husband took Safyre in without considering or worrying about what the costs of her extensive medical treatments would be, so any donations received would help them tremendously. Within a short amount of time, donors contributed $433,279 to help pay for Safyre's medical costs and to provide for her future.
"She believed… and all of you are making it happen," Safyre's aunt wrote in a thank you update.
The non-profit Baking Memories also donated an entire family sized, all-expenses-paid, week-long vacation to Disney World for Safyre, her aunt, aunt's husband and their children. The kind and generous gift also included a special pass that allowed them to go to the front of every line without waiting.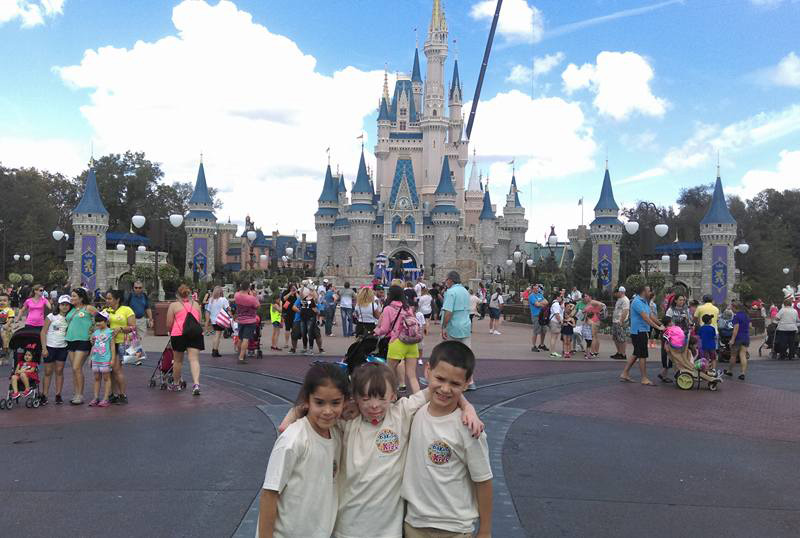 Safyre was thrilled by the cards and gifts, often going to her aunt for teary-eyed hugs.



Thanks to the loving support of millions of people from around the world, Safyre now knows herself to be a 'Super Survivor', and her bright attitude and high self-esteem shine through each of her video updates on her page.
Safyre now loves to visit the post office. Her mailing address is: Safyre Terry P.O. Box 6126 Schenectady, NY, 12306 USA.
Please share this good news with others: when we share stories and examples of compassion and kindness, we inspire and encourage others to be kind and compassionate in their daily lives, making the world a better place for everyone.
You are Loved.
See Also: Compassionate Restaurant Sets Up "Take One Leave One" Coat Rack For The Homeless