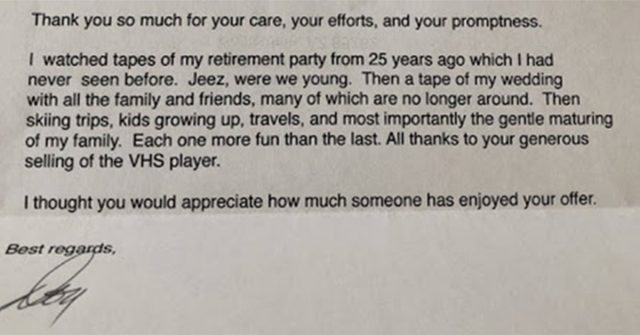 When Matt Skoury sold an old VHS player on eBay, he wasn't expecting to receive one of the sweetest thank you notes of his life.
Matt had recently begun selling items on eBay while spending time at home recovering from a condition.
"Most eBay transactions are a blur for me as most commerce is nowadays. They pay. They get their item. Everybody's happy and goes on their way," Matt explained.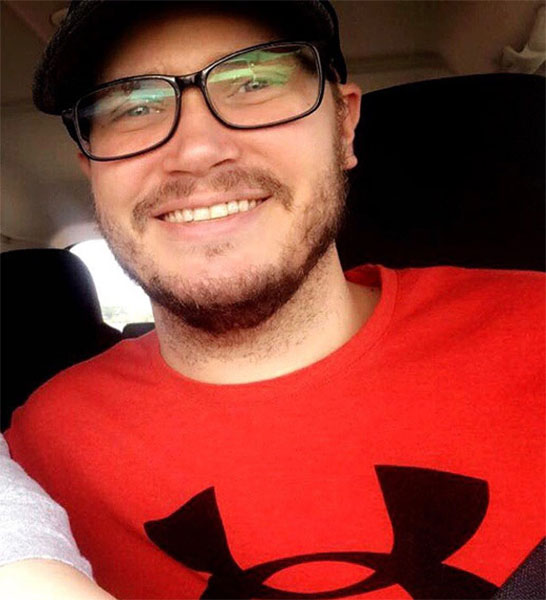 But one day he received an unprompted letter in the mail which brought him and his girlfriend to tears.
"My girlfriend had brought the mail in, which is usually all ads and junk, but I noticed a letter for me with a handwritten address on the front," he said.
"We were both on the brink of tears reading it and I had to share this gentleman's story with more people."




He opened the envelope, and read the following letter:
"Hi M Shoukry, I found many old VHS tapes recently and wanted to see what is on them and realized I had no player. So I went to EBay for the first time and discovered your offer."
"I bought your VHS and you shipped it within a few days. The VHS looks new and unused. Amazing. I had some issues getting it going which were mine and not the player. I am 86 and perhaps not up to my game but I do get there eventually. And I did, and discovered the VHS works perfectly."
"Thank you so much for your care, your efforts, and your promptness."
"I watched tapes of my retirement party from 25 years ago which I had never seen before. Jeez, were we young. Then a tape of my wedding with all the family and friends, many of which are no longer around. Then skiing trips, kids growing up, travels, and most importantly the gentle maturing of my family. Each one more fun than the last All thanks to your generous selling of the VHS player."
"I thought you would appreciate how much someone has enjoyed your offer. Best regards"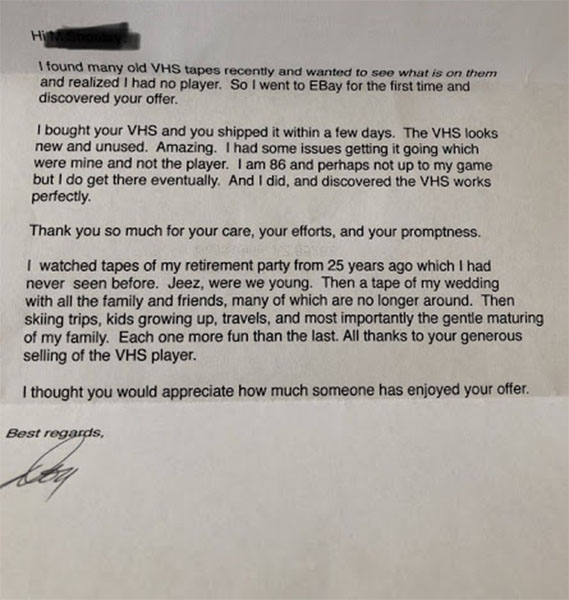 The older gentleman's sweet letter touched Matt so much that he decided to reach out to him and help him preserve his memories.




"I will be offering to allow him to ship his VHS tapes to me so I can digitize them," Matt said. "That way, his family memories will be safe and not at risk of deteriorating away on those tapes, and the rest of his family for generations can enjoy the memories, too."
Hundreds of thousands of hearts online have been moved by this sweet exchange between two strangers.
"I hope that will live on your fridge forever," commented one grateful heart.
"Making me cry over here…" wrote another.
"The art of writing a thank you letter," commented Elsie J.
"This made me cry, the gratitude is heartwarming and heartbreaking at the same time!
Truly beautiful and then to take the time to send the note. You could hear the Gratitude and Joy!
Who knew that something so simple could bring such happiness not only to the buyer, but those of us who got to read the letter. Thank you for sharing…you brought joy to this person and those of us who read this. Truly Beautiful❤️" wrote Morgan C.
You are Loved.
See Also: A Fifth Grade Teacher Found This Thoughtful Thank You Note From His Student; Thousands Have Been Moved To Tears By It
View this post on Instagram